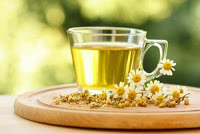 A camomila é uma planta que há tempos está associada ao descoloramento dos fios de cabelo.
Na natureza encontramos a camomila romana ou Anthemis nobilis e a camomila germânica, Matricaria chamomilla e suas flores podem ser utilizadas para mudar a tonalidade dos cabelos por conterem uma substância colorante chamada apigenina.
A apigenina, corante de cor amarela, presente em cosméticos que apresentam em sua composição o extrato de camomila acaba por se acumular nos fios de cabelo promovendo um clareamento da tonalidade castanha dos fios após repetidas aplicações dos produtos.
O mesmo efeito pode ser obtido com o uso da água de fervura com as flores de camomila, no caso, o chá de camomila, que aplicado nos fios por diversas vezes acaba por provocar esse mesmo efeito.
Há em alguns países a pasta de camomila, uma pasta que, assim como a pasta de henna, é feita a partir das flores da camomila e aplicada nos fios seguidas vezes com a proposta do clareamento.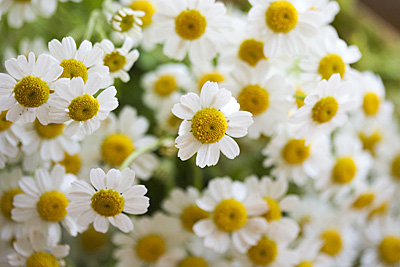 Referências:
Bouillon C, Wilkinson J. The Science of Hair Care. Taylor & Francis. 2005. USA.